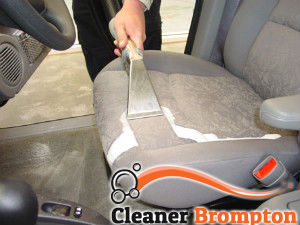 If you don't have time to clean your vehicle or need a deeper disinfection of its interior you can rely on our technicians to provide it. They can restore the hygienic and spotless state of your car upholstery by sanitising it with specialised machines, tools, detergents and solutions. We implement thorough brushing, hoovering, steam cleaning, stain and spot removal of all kinds of upholstery.
Our cleaners can take care of the leather car seats in your vehicles providing effective wiping of their fabric. Get in touch with us to reserve the car upholstery cleaning implemented by our staff who operate in the Brompton region every day in the week.
Detailed Car Upholstery Cleaning
You can use our services that involve:
Effective leather upholstery cleaning
The use of specialised equipment for vacuum and steam cleaning
Removal of stains, spillages and water marks
Cleaning hairs, fur and visible dirt with brushes
Polishing the cleaned leather car seats
Whenever you need thorough sanitising of your car upholstery or its disinfection, call us and let our professional cleaners provide it. They inspect the interior of the car and the material of the upholstery to choose the most appropriate machines, tools and products for cleaning. Then, our staff remove the hairs and visible grime with stiff brushes.
Professional Car Cleaning Services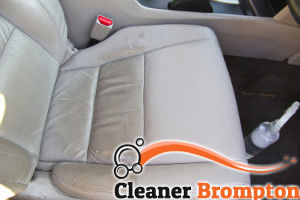 They vacuum clean the car upholstery with crevice tool attachments to gather smaller dirt particles.
Then, our staff apply the designated for upholstery stain removers on spillages and smears. We can restore the spotless state of the inside areas of your vehicles providing comprehensive car upholstery cleaning throughout Brompton at a preferred by the customer time.
We carry our hot water extraction whenever the upholstery needs deeper cleaning. In the end, the interior of the car and upholstery is deodorised for refreshing. Our employees use industrial driers after applying cleaning solution and steam cleaning to make the car upholstery dry faster.
Get in touch with our company, based in Brompton, SW3, to arrange an appointment with our staff and book detailed car upholstery cleaning. Our technicians have what it takes to make your cars look like new.