Don't pretend your gutters are in a top shape just because you cannot see the compressed debris they are filled with from the ground!
Negligence will cause you to incur greater expenses in the future, which is why you should consider arranging an appointment for the professional gutter cleaning services our trained staff carries out in Brompton and the neighbouring boroughs.
We offer you the best rates in the area, not to mention we always deliver the results our customers expect from us. Booking us is simple and convenient as our call centre is open 24/7!
Specialised Gutter Cleaning at Rates Anyone Can Afford SW3
The easiest way to avoid costly water damages to your property is booking the gutter cleaning services we offer to customers, residing in and around Brompton. Pricing should be the least of your concerns. Yet, our competitive rates are not the only advantage of using us. We also offer:
Fair treatment and excellent customer service
Call centre for inquiries, advice and appointments
A team of fully-equipped and reliable professionals
Gutter maintenance
Guarantee for our work
A fully-insured service for your peace of mind
Flexibility in terms of scheduling
The whole purpose of installing a guttering system is to prevent rainwater from flooding your home's foundations. If your gutters fail to serve their purpose, what's the point of having them, really?
"I definitely plan on doing business with this company again next year, come spring. They use professional gutter cleaning machines and poles, no ladders or hand-picking of leaves like I've seen others do. The team even showed me pictures of the newly-cleaned gutters. The rates are competitive, but more importantly – they deliver! – Lynnette"
Reliable Gutter Cleaning Services in Brompton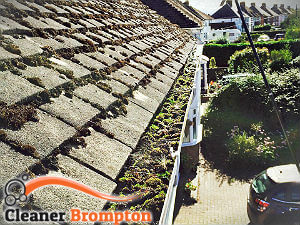 Not to mention, clogged gutters are more than likely to lead to foundation cracks, basement flooding, leaks, and even vermin infestation in the worst case scenario. But fret not! With our help, your gutters will be restored to their initial condition and at a very competitive price, too!
With years of experience in the gutter cleaning business, we know what it takes to clean any type of guttering system. We employ only insured, trained and competent gutter cleaners, who use specialised vacuuming machines and long, telescopic poles to unclog blockages and remove the compressed debris. We rarely resort to using ladders as our poles can extend up to twelve metres.
One advantage of our service we forgot to mention stems from the fact we can provide "before" and "after" pictures of your gutters and downpipes. We attach a small camera to our telescopic pole, which allows us to take digital pictures as well as to evaluate the condition of your gutters.
Don't put off this task – contact us today to schedule an appointment for the best gutter cleaning service in the entire Brompton, SW3!